HDD ( Hard Disk Drive) Digital Media Players
What is HDD Digital Media Player? It is Media Player where Movies, Music, Photos are recording on the Hard Disk Drive instead CD/DVD disks. Now Digital Media Player with HDD is a High Capacity (up to 500 gigabytes and some models up to 2 terabytes!) Media Bank with Playback function.
For PC - HDD Digital Media Player is External ( USB or LAN ) Hard Drive Storage, for TV - it is a regular Media Player. You could download audio/video directly on HDD Digital Media Player and watch/listen audio/video directly on TV/Home Theater.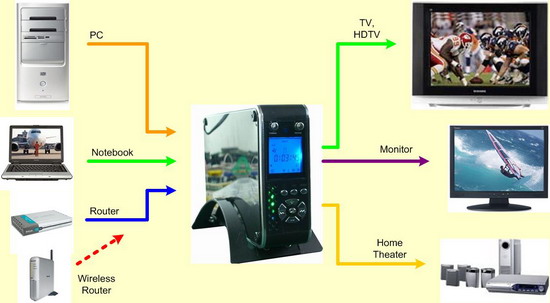 What is the difference between DVD Divx Player and HDD Digital Media Player (if both of them use the same Audio/Video Processors for audio/video stream decoding)?
• Capacity: up to 500GB and larger
• Eliminates time of disk burning
• Eliminates all CD/DVD media-related problems
• Plays Directly on TV/Home Theater/Audio Amplifier/PC Monitor
• Supports PAL and NTSC TV types
• No region codes
• Easy editing: deleting, organizing, etc.
• Small size - can be taken anywhere with ~500 movies on it
Standard process "download - burn - watch" becomes "download - watch".
Designed for Digital Media Processing, HDD Media Players supports almost all known Audio and Video formats: Avi, Divx, Xvid, DVD, Wma, Wmv, VCD, SVCD, Asf, Dat, MP4, MP3, Jpeg, BMP, GIF, etc.
Would like to watch some movie in streaming format like .asf, .wmv?
Just connect HDD MP4 Avi Divx Player to PC ( through USB or LAN port ), download file on it, connect it to TV and enjoy. Very easy. Don't like the movie? Delete.
There are few types of HDD Digital Media (Avi, Divx...) Players on the market:
• Digital Media Players with display (LCD). Based on 2.5" HDD ( notebook size HDD ) or 1.8" HDD. Capacity up to 100GB. Price up to $500 (especially for iPods)
• 2.5" HDD Digital Media Players with build in Hard Drive or without HDD (2.5" HDD Digital Media Player Enclosure). Price ~$50-100 ( without HDD )
• 3.5" HDD ( standard Hard Drive for PC ) Digital Media Player with build in Hard Drive or without HDD (3.5" HDD MP4 Media Player Enclosure). Price ~$90-200 ( without HDD )
2.5" HDD Digital Media Players and 3.5" HDD Digital Media Players are very similar, just have different size. Any IDE PATA HDD could be used and it size depends only of your needs and possibilities. Hard Drive installation process is very easy and take only few minutes.
More cost effective is 3.5" HDD Digital Media Players:
2.5" Hard Drive: 100GB - ~$100
3.5" Hard Drive: 300GB - ~$100
Typical HDD Digital Media Players Features:
- Plug and play and compatible with PCs and Macintosh
- Plays Media formats: DVD, VOB, MPEG1-4, DivX, VCD, SVCD, ASF, WMV, JPEG, MP3, WMA, CD-DA, etc.
- Supports TV type: PAL and NTSC
- Supports files copy/rename/delete
- Displays digital photos and movies on a TV, monitor or projector without the use of PCs
- Supports most of OS: Windows 98/98SE/2000/ME/XP, Mac OS and Linux
- PC interface: 480Mbps USB 2.0 high-speed (USB1.1 backwards compatible)
- HDD file system: FAT32, NTFS
- Video outputs: composite (RCA); VGA
- Audio outputs: stereo 2-ch (RCA); Digital Audio
- Power supply: AC 100~240V
---